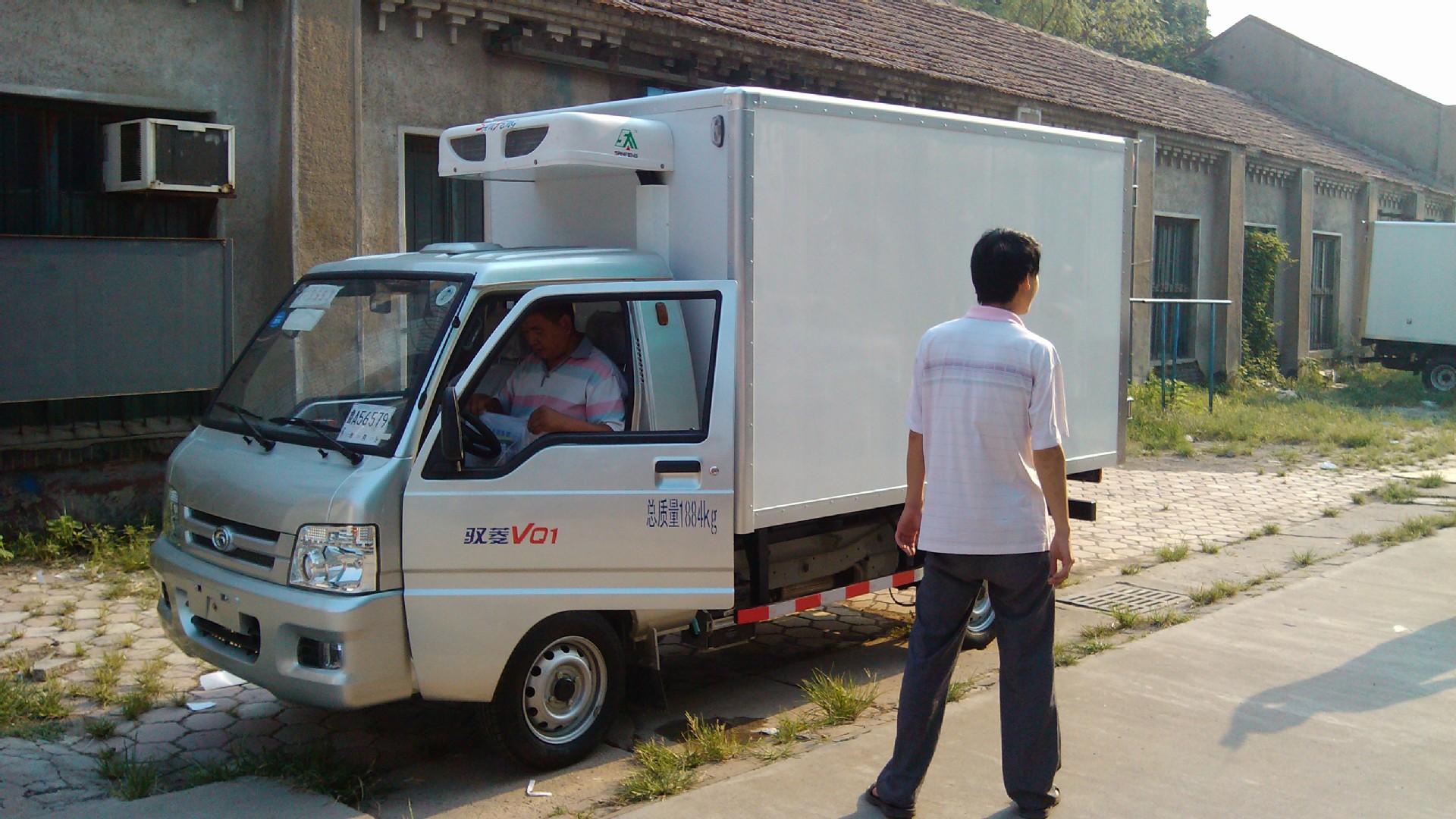 ,所属旗下的冷藏车厂家高起点大投入,引进目前国际最先进冷藏车生产技术并斥巨资购置先进的发泡成型设备和18米大型复合板材生产线,制造出新一代东风冷藏车,五十铃冷藏车,福田冷藏车,江淮冷藏车,江铃冷藏车,面包冷藏车,金杯面包冷藏车,福田风景面包冷藏车, 小型冷藏车, 程力冷藏车 ,药品冷藏车, 冷藏运输车 ,医药冷藏车,挂肉冷藏车, 保温车 , 冷藏车等等。 ★ Chengli Special Purpose Vehicle Co. , Ltd. , a affiliated refrigerated truck manufacturer, has invested heavily in the introduction of the world's most advanced refrigerated truck production technology and invested huge sums of money to purchase advanced foam molding equipment and 18-meter large-scale composite sheet production lines. The new generation of Dongfeng refrigerated truck, Isuzu refrigerated truck, Fukuda refrigerated truck, JAC refrigerated truck, JMC refrigerated truck, bread refrigerated truck, Jinbei bread refrigerated truck, Futian scenery bread refrigerated truck, small refrigerated truck, Chengli refrigerated truck , pharmaceutical refrigerated truck, Refrigerated transport trucks , medical refrigerated trucks, meat refrigerated trucks, heat preservation trucks , refrigerated trucks, etc. The inner and outer wall panels of the produced refrigerated compartments are made of high-quality FRP, stainless steel or color steel plates; the intermediate insulation materials are 8cm thick imported polyurethane extruded plates; the aluminum alloy edging around the compartments; and the bottom plate is made of cast-in-place FRP. The refrigerated truck manufactured with new technology and new technology has the characteristics of good thermal insulation performance, beautiful appearance, light overall weight, high strength, and no leakage. The carboard has good impact resistance, and has good corrosion resistance and aging resistance to the atmosphere, water and acids, alkalis, salts and other media. After optimized design, the height of the floor of the compartment from the ground is greatly reduced, the effective volume of the compartment is increased, and the safety of the vehicle is higher. Optional ventilation slots on the floor of the cabin allow cold air to flow through the vehicle and maintain a balanced temperature in the cabin. The refrigerating unit has well-known domestic and imported unit choices, and the temperature can reach the requirements of deep cooling. The unit has the characteristics of simple structure, convenient operation, reliable operation, low energy consumption, large cooling capacity, low noise and convenient installation and maintenance.
★ Chengli has strong technical force, complete testing methods, advanced production equipment at home and abroad, stable product quality, and flexible operation methods. Chengli has taken the lead to fully pass the ISO9001-2000 international quality system certification, and all of its products have passed 3C international mandatory Product certification and passed various certifications for export products.
★ Chengli Automobile's series of special vehicles have been occupying a large domestic market for decades. In recent years, Chengli Automobile has made extraordinary achievements in domestic and foreign markets, especially Chengli Company invested in the construction of a new suburb in Suizhou Nanjiao Development Zone. After the large-scale factory building, Suizhou Nanjiao Development Zone was named "Chengli Automobile Industrial Park", and Chengli Automobile has become a bright pearl of special vehicles in Central China.
★ Our service tenet is: Survive by quality, credibility is the guarantee. Treat people with integrity, flexible operation, high quality and low price, and pay attention to efficiency.
★ Chengli company promises: All products that are produced and sold by our company, the chassis part, the national service station can be guaranteed, the warranty service for the special part is one year, the after-sales service is in place for 48 hours, and maintenance is provided for life and free technical service is provided for life. .
—— 湖北省随州市 ;距省会武汉市 186 公里,距宜昌三峡 330 公里,公路、铁路交通十分便利。 ★ Chengli Automobile Co., Ltd. is located in the hometown of Yandi Shennong, the hometown of chimes, and a well-known automobile city — Suizhou , Hubei Province . It is 186 kilometers away from the provincial capital Wuhan and 330 kilometers away from the Three Gorges of Yichang . The road and rail transportation are very convenient. " 程阿罗 " 热忱欢迎各位新、老朋友惠顾,并期待着您的光临。 Cheng Li, general manager of Chengli Automobile Co., Ltd. warmly welcomes new and old friends to visit us and looks forward to your visit. At the same time, our company can rely on your company's responsibility to fax, or pre-pay part of the car, and preferentially handle the car delivery business; pick up the car at our company, our company will handle the full set of driving procedures for you.
★ Chengli Special Purpose Vehicle is willing to serve you wholeheartedly, and look forward to your visit to our factory to inspect the production strength and product technology. Chengli Automobile will provide you with the best quality service.
Vehicle issued: regular chassis certificate, regular vehicle certificate, regular vehicle purchase tax invoice, national unified motor vehicle, on-board tools, vehicle warranty manual, vehicle instruction manual, national service station directory, etc. Let you go home worry-free, convenient and fast!
Factory direct consultation hotline: 138 8688 8304

National 24-hour consultation QQ: 353322670

WWW.ZQZXGW .COM Chengli refrigerated truck sales official website: titizanne.com